Appearance
human form- haruhi has pale skin but her body is covered in scars and burns, from being tortured by onaga, her eyes are golden but they can change color depending on her moods. Haruhi has short brown which goes to her shoulders and is quite messy, she wares rags for clothes she does wear any shoes or socks.
wolf/winged wolf form- Is a pure white wolf with golden eyes just like her human. Haruhi's wolf form is a bit bigger than any normal wolf that's out there, she has a scar on her snout her eyes still can change colour depending on her moods. Haruhi's wolf form can also have wings as white as snow, she is bit of a good flier but is still learning.
wolf-girl form- Her wolf-girl form is much different from her human form, as she has long white hair which is lose or tied up in a pony tail. This form has white wolf ears which replaces her human ears, her skin is a lot paler than her human form. In this form haruhi does look a bit older than in her human form, She wears different clothing unlike the rags she wears in her human form but she does have all the scars that her human form has.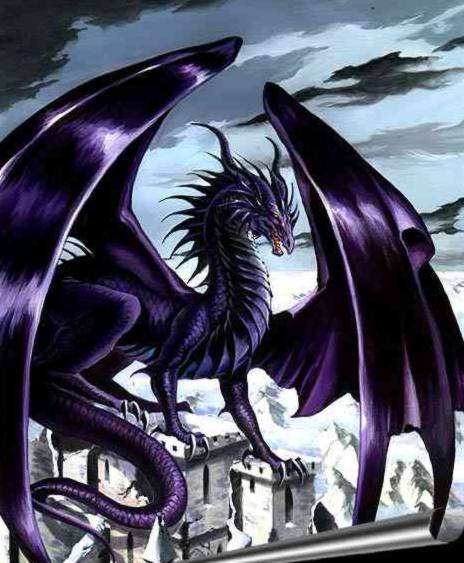 dragon form- Her dragon form is a purple dragon with a long neck, with a body like a lizards. Her head has a few horns at the top, both her eyes are slits and the colour is a slight grey colour. Haruhi has a long tail with a arrow at the end and her wings are large with a few holes on the wings them self.
demon form- Her demon form is a shadow wolf figure in away, she has blood red eyes that will mostly scare anyone. Haruhi can't control her demon form as it has a mind of its own, when haruhi passes out most days or gets mad she will turn into her demon form and she will kill with her fangs or destroy the world.
raven form- Her raven form is a large black bird, she has red eyes but her eyes do go dark if she wants to spy on anyone. Haruhi loves spying on other creatures but mostly evil beings of the world.
unicorn form- Her unicorn form is a horse with one horn upon her forehead she is the fairest of all haruhi's form's, the coat is a silver color which does glow in the moonlight nights. Haruhi rarely uses this form as she does get hunted in this one.
phoenix form- Her phoenix form is a fire bird with feathers of a goldish red color, she has a yellow beak. Haruhi is the size of an eagle in this form and can carry much heavier things than herself if she wants to.